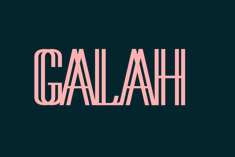 Front of House Manager
Galah
Galah is a high-end cocktail bar and restaurant with a Modern Australian influence, situated in the heart of the trendy new High Street district of bars and restaurants in Windsor
Career progression and plenty of input into developing the business
Staff trainings sessions with brand reps and more
Offering full-time salary position at competitive rates
We are searching for a passionate and experienced hospitality rockstar to join our tight-knit team! We are looking for someone who has outstanding customer service skills with a professional, upbeat and friendly personality, is motivated to inspire others and who is driven to create amazing experiences for our customers.
The successful candidate is someone who has a very strong 'hands-on' management. Ideally you will come from a Restaurant background with years of FOH and Floor experience to bring to the table, or have worked in other Managerial positions with a firm focus on service and Floor operations in a Restaurant or Bistro environment.
By joining the team you will be:
Aiding in training and developing current and future staff
Be responsible for driving a strong restaurant culture by promoting a fun and professional atmosphere
Work with the Venue Manager and Head Chef in establishing, implementing and maintaining restaurant procedures and the organisation and running of restaurant events and functions when required
Contribute ideas and suggestions on refining our current restaurant operations, have a high level of attention to detail and encourage the same traits in other employees
Ensure our customers have an incredible dining and cocktail experience
Experience with Vectron POS, Open Table, in handling bookings and reservations, and with a solid level of wine, spirit and cocktail knowledge (WSET II) is highly desirable. As is previous experience as a Duty Manager with cash up and end of night procedures.
Must be available nights and weekends.
What we are offering:
Great work/life balance
An awesome team
Staff meals prepared by our kitchen
Staff trainings sessions with brand reps and more
Full-time hours and a salary package for the right person
Career progression and plenty of input into developing the business
If this sounds like the job for you please apply through Scout or email your CV to albertacoad@gmail.com
Thank you.