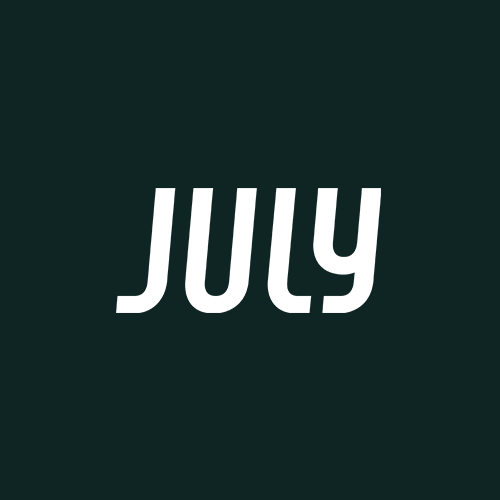 July is looking for a Creative Lead to manage creative campaigns and build a talented, high-performing team of designers and producers.
Based in Collingwood, Melbourne
Australian travel ecommerce brand
A passionate, hard working and close-knit team
About July
July is a direct to consumer Australian travel brand known for its classic and clever luggage, bags and accessories. We exist so you can focus on the parts of travel you love. As well as our online store, july.com, we have retail stores at QV Melbourne and Collingwood.
About the role
The Creative Lead role is suited to someone who knows how to bring creative ideas to life. They're looking for more ownership over their work from ideation to execution. With art directing experience, they're confident in the creative development process and collaborating with others.

This role reports to the General Manager, Zhoe Low, and manages a talented Creative team of designers and producers. This role works closely with our Growth Lead across the marketing campaign calendar.
We are a dynamic, driven and independent team, with a high attention to detail. The types of people to succeed at July are those who are problem solvers, career-oriented people who want to take on more responsibility. We'd love to meet people who want to learn from a high-performing team and to grow with our business.

Why July
Join us as July takes off as one of the fastest growing direct to consumer ecommerce companies in Australia. The team is under 30 people and set to grow very quickly.
Light-filled Collingwood warehouse with plenty of space near trains, trams, buses, restaurants and cafes.
Learn and grow faster than in an agency. You'll get depth and breadth in your craft.
Work with a young, high-performing team. It's a fast-paced environment!


Key responsibilities
As the Creative Lead, you will lead and manage all creative campaigns and projects globally across Australia and the US. Your responsibilities include:
Develop the July brand and visual direction
Manage the creative development process from ideation to execution across product launches, promotions, still and video shoots, events, store openings and more
Mentor and guide a team of designers and producers
Champion best design practices in July
Key selection criteria

What you'll need to succeed in this role:

Over 3 years art direction experience
Experience with managing the creative development process from ideation to execution
Experience producing various content for different platforms
Experience working collaboratively with marketing teams
Experience in ecommerce/retail
Desire to be in a fast-paced environment working autonomously
Quality work ethic and willingness to learn
Looking for more responsibilities to advance your career
Full time availability
Full working rights in Australia